OCTOBER 26TH,2013
UFO FALL FESTIVAL AND STATE MEETING AT STARVED ROCK

RICHARD M.DOLAN & DONALD R. SCHMITT
IN THE FLESH LIVE AND IN PERSON
Have you joined our MeetUp?
Please do so so you can get immediate information
sent to you via email as soon as
new meetings and events are scheduled.
Plus interactive opportunities and so much more.
Just click on this MeetUp web address below
and you're there.
http://www.meetup.com/Illinois-MUFON/

Anybody wishing to be kept informed of meeting and events must be a member of our meetup group.
It's Free!


The Orland Park Public Libray is not a sponsor of this or
any other organizations event. This meeting is sponsored
by Illinois MUFON not MUFON International.

We hold the right to request the immediate and lawful
removal of any individual(s) perceived as a threat to
either themselves or other(s).

Any indeminification for damage to said individual
their person or property, surrounding private or public
property is solely the responsibility of the guilty
parties

DO NOT contact the Libray for any information
all information is posted here. If you need more other
information call 708-460-7606 and talk to Sam Maranto
or email him at mufonsam@comcast.net

Thank You for Your Cooperation
Full-Tilt Photography
Star Team Investigator, Illinois MUFON's Photography
Expert and Instructor Frank Coffman grave a dynamic
instrutional presentation at the Orland Park chapter
meeting this past April 6th.
More information will be coming on classes and field work.
Thank You Frank for all your fine work and we look forward
to more presentations in the near future
What a Great Meeting

Grant Cameron Presentation


UFOs, Area 51, and Government Informants
A Report on Government Involvement in UFO Crash Retrievals
Authored by Mr. Grant Cameron and Mr. T. Scott Crain
This is one of the most important books ever written on the clandestine world of the UFO cover-up. Grant Cameron and Scott Crain do more than demonstrate the reality of an extraterrestrial presence on Earth. Through tenacious investigation and impeccable research, they shine a light into the CIA, NSA, Air Force, Navy, and other inside groups that have managed this secret for decades.
Their conclusion is inescapable and shocking: this is a secret that the insiders themselves struggle to understand and contain.
"Government agencies, at various times, precieve a need to release some UFO information to the public. Some, definitely not all. How do they do it? Always via avenues that leave no one at risk. That means ensuring there is no direct connection between the agency and whomever is doing the actual releasing. It also means the necessity of mixing in some false information. It means, ultimately, to tell the truth, but tell it slant. Until there is a full disclosure of the UFO/ET reality, deniability will remain paramount to those in possession of this great secret."
- By the authors, from the book's Introduction.



T
raining is part of our mission.
E
ducation
increases awareness
while assuring an
increase in quality.
Remaining Committed o Excellence
Thanks You So Much...all of you!
Dr. Steven Syrison "Has Contact Begun?"
Pleasant weather was a welcomed assurance that the first Orland Park Chapter meeting for 2013 would have a chance at being well attended but the real clincher was our guest speaker, Dr. Steven Syrison's topic, Crop Circles.

His fine selection of dazzling formations begs one to first ponder its authorship. Whether the result of an unknown component of nature itself or by another intelligence one thing remains crystal clear this mystery strikes a cord in the human psyche like no other. Dr. Syrison mentioned that some formations appear to be illustrating configurations of celestial bodies that correspond to a precise chronology with a number of known historical events. If this is the case other formations may be representing future dates/events. From universally sacred archaic images to the blatantly obvious graceful fragility of a Dragonfly, it stand to reason some form of communications is intentional…but for whom?
All present were fond of learning details they had never heard before on the topic. New revolations and potential meanings to a number of riviting interpretaions. Dr. Syrison had no difficulty kepting the group captivated from start to finish.
MORE TO COME>
Richard Dolan David Marler
Renowned investigative researcher & author, Richard Dolan, covered current news worthy topics that relate to Ufology. He then touched on information regarding American Presidents and what they may have been privileged too on this subject. Grant Cameron, as Richard pointed out, is without doubt the best resource on this topic and his books are well worth adding to the Ufological section of your personal library. From the Kennedy assassination to UFO Disclosure Richard covered a wide spectrum of both subject matter and questions. Dedicated and dynamic Richard again delivered a most stellar performance, thank you so much.
The 13th anniversary of the famous Southern Illinois UFO sighting of January 5
th
, 2000 didn't go without some recognition. As MUFON State Director in Illinois at that time , David Marler remembers that day very well and for many a good reason. Not only was he a key investigator on the case David walked away with more than a number of interviews. Having fine-tuned his mission in Ufology is widely known as the "go to guy" for information on triangular UFOs.
For over a decade this focused approach ,a commitment to a philosophy held by J. Allen Hyneck, that being "specialize" in some aspect of the phenomena is the only way to benefit the subject scientifically. David embodies that commitment and so does his soon to be published work.
David introduced the group to some of the more unique aspects of massive triangular UFO sighting as well as covering a number of these cases with an emphasis to key details and facts pertinent not just to that specific case but to the Large Triangular UFO phenomena in general .David took questions from the group as well as sharing his personal experiences while working on the historical January 5th, 2000 case of Southern Illinois. Just to hear the details on his interaction with the legendary Skeptic Phillip Klass was a treat unto itself. Certainly David Marler will soon become an internationally significant name in the field of Ufology one that will remember to keep true to purpose may we never forget his valued message. Hopefully more of us will aspire to the likes of such, thank you David.
Expect to be seeing both Dave and his book in the near future as he, Dr. Mark Rodigier and others will be appearing in a new television special/program airing sometime this year. Richard is working on a television series that will also air this year more details on both will be posted as information becomes available.
MORE TO COME>
The Last Straw
One of the most interesting and desisive moments in Ufology took place in July 1952.
The Washington Merry-Go-Round
as it was refered to may very well have been the last staw on this subject for President Truman.
For more details :
http://www.nicap.org/rufo/rufo-12.htm
http://www.nicap.org/articles/newsarticlesJuly1952.pdf
http://www.nicap.org/waves/washinvas.htm
-Everybody in the radar room was convinced that the targets were very probably caused by solid metallic objects. There had been weather targets on the scope too, he said, but these were common to the Washington area and the controllers were paying no attention to them.
There was some doubt about the visual sighting of the "large fiery-orange-colored sphere" that the tower operators at Andrews AFB saw when the radar operators at National Airport told them they had a target over the Andrews Radio range station.


Making a diference at times could be as simple as adopting a new strategy.

ILLINOIS MUFON NFP CFI TRIAGE INITIATIVE
Underway....

Dan Snow
Triage Director

SOLAR FLARES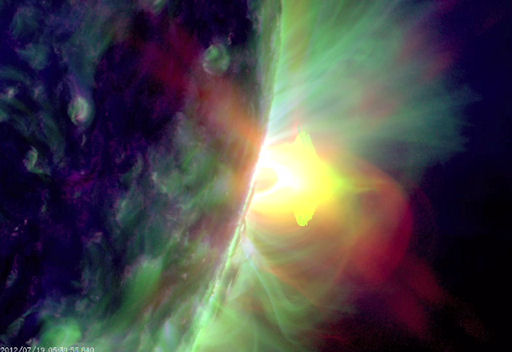 M7 Solar Flare July 19th, 2012
Pictures Needed
Do you have Digital Photo's from our past meetings/events?Please share them with us so we caqn post them on the site. We are in need of photos from the Greater Chicagoland & Springfield Groups. contact juliemaranto@comcast.net
Fourth Annual State Meeting at Starved Rock on May 5th,2012
More Pictures To Be Posted Soon



Slide Show below ,enjoy...